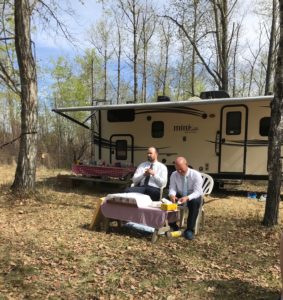 Due to COVID restrictions, many of us have not been to our regular meetings for many months.  For me, this was a new experience.  I have been to church every Sunday of my life since I was born… with very few exceptions.  As a child, I had to be pretty sick to miss and I don't remember that ever happening.  It must have, but I don't remember.  Probably I didn't go the week I had my appendix out when I was 8.  As an adult, I usually had a Sunday assignment somewhere so missing was more complicated than just going.  Plus, I have always loved church.
Home church was kind of an interesting adventure at first.  I marvelled at how our prophets had foreseen the time we would need to have church at home, and I marvelled at how we had the "Come, Follow Me" program ready to go… such a wonderful program for doing at home, complete with all types of suggested activities for all ages.  I loved seeing my husband kneel and bless the sacrament in our own home.  I loved the sacred feeling that brought into our home.  We even had sacrament out in our woods one day when our children were camping (see picture).
But I did worry that prolonged non-attendance would make people just give up the habit altogether and we might go back and find out that not all of our brothers and sisters were returning.  And I worried about the music.  How could we stop singing hymns in our worship services?  To me, that has always been such an important way to worship.  We sing our testimonies, don't we?
I know that wards and branches of the Church have approached the music issue in many different ways.  In our ward, we listen to the organist play an opening, sacrament and closing hymn.  Other wards have had some instrumental or solo performers.  One easy way to add variety to your Sunday hymns is to use Congregation Choir music.  An instrumental countermelody could be added to the organist or pianist playing the regular SATB version of the hymns from the hymnbook.  Or a soloist could sing the melody at the mic while an instrumentalist plays the countermelody… six feet away.  The enhanced piano accompaniment could be used, or the hymnbook accompaniment works just fine.  Our very adaptable, very easy Congregation Choir music lends itself well to this type of situation.  We can still have variety in these hymns that we love, still feel of their spirit in creative ways, still hear their words.
We wish you well as you re-start your meetings.
 ****Check out our large collection of lovely, adaptable and easy-to-prepare hymn arrangements.